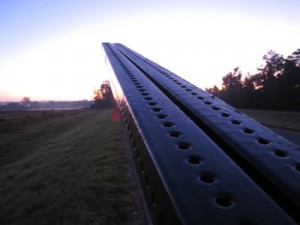 In early November, 2011 the Alabama Department of Transportation began a test at Perdido Pass Bridge in Orange Beach, AL.  Ovante coated two sign posts with Storm Greeter and delivered them to the 9th District office in Mobile, AL.  One post was embedded along the beach highway between Gulf Shores and Orange Beach, at mile marker 9.  The other post was installed, alongside an uncoated post, on a pier next to the Perdido Pass bridge.
The post installed in the bay was exposed to the daily tides, sea water, direct sunlight, and marine life for 13 months.  Every day, bay traffic passed close to the posts, leaving behind traces of fuel and exhaust.  Both posts were continually splashed by the waves.  Both posts were invaded by marine life, inside and out.
The post covered with Storm Greeter, while hosting a wide variety of marine life on its surface, was protected from the salt splashing and from the marine life – especially barnacles.  The barnacles could be pried off with a fingernail.